The 2017 Cruising Programme
New Online Booking Form Here in late January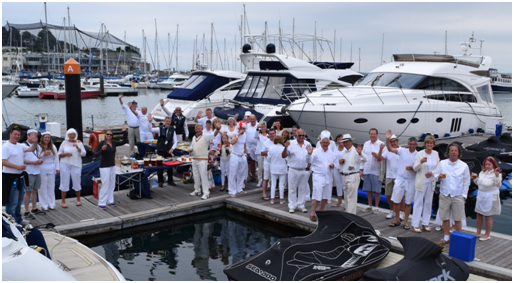 Click here to see our Cruise Calendar for 2017.
With the weather affecting the first three of our cruises last year, 2016, some have been booked for a return this year, 2017.  The Committee is pleased to offer the following cruises for our members to participate in and these dates are all confirmed and weather permitting, all the cruises will take place.
Every member of the Association is welcome to participate in the planned cruises, subject to marina availability and suitability of your vessel for the passage to be undertaken.
If you would like to experience those distant places in the safety of others and get to go "that bit further", then please join us to get that experience so that you can go it alone.  Both experienced and novice crews are all welcome. If you are uncertain of your boats suitability then contact a Committee or Pontoon Representative, who will be happy to help and advise you.
Every cruise that we arrange starts and finishes from our home marina of Cobbs Quay. The routes that we use are all gained from the Peter Cumberlidge Waypoint Directory, one of the best boating resources you could buy for your boat to cruise from Poole to any destination on the British south coast, or the northern French coast.
The booking form will be live early in the New Year. Once your completed form and non-refundable booking fee have been received a confirmation email will be sent to you. The Cruise Co-ordinator will then contact you approximately 4 weeks before departure when we seek confirmation of your attendance, before sending the actual cruising notes to you approximately 7 days prior to departure. There is always a skippers briefing the night before departure at 20.00hrs outside the Quay Shop when the current weather information and departure time will be confirmed. This meeting is a requirement for attending the cruise.
All places will be reserved on a 'first come, first served basis' so please check the web site in the New Year after you have received notification of the application form going live date. All the marinas this year have once again capped our numbers so please book early so that you are not disappointed. Your online form will only send if all the mandatory fields are completed and your non-refundable booking fee sent electronically. Everyone who applies will be sent a confirmation e-mail with an indication of your inclusion or position on the reserve list. Updates on numbers will be sent via the monthly newsletter e-mail when appropriate. If you do not receive these e-mails then please resubmit your details to the Membership Secretary on the contact form from the web site.
The following cruising dates and venues are planned for 2017.
Easter Shakedown to IOW 14th April – 17th April; A return visit to the Medina River after last year's cancelled event. The marina is located just up-stream from Cowes, giving us the perfect opportunity to explore this well-known yachting venue for the Easter weekend before returning home on the Bank Holiday Monday. We will be in a confined space but there will be plenty of hands to help us all in.
Gosport Marina Cruise 29th April – 1st May; This is a new venue for the Association – it will make a lot of crew members happy due to its location close to Gunwharf Quays. For those that have not visited Portsmouth before, this would be a good marina to start with as you can watch the boats slide by as they exit Portsmouth Harbour.
Bembridge Marina overnight stay Saturday 13th May; A venue that we have not visited for a number of years, albeit this is an overnight stay, we still hope to have a rally BBQ to start the season off in a marquee so bring those tongs and gloves!!
Whitsun St Peter Port, Guernsey – week-long visit 27th May – 3rd June; After the success of our trip abroad last year our plan is to have a week-long stay in Victoria Marina, Guernsey in what many consider to be the best marina venue. With the added bonus of tax free petrol and diesel, this just sweetens the palette ready for the food on offer in the many restaurants. Provided the weather is kind this should prove to be a relaxing week, a great way to kick off venturing across the Channel for those who have not yet ventured that far.
Portland Marina overnight stay Saturday 17th June; A return to one of our new venues from last year, but still a marina many have passed by.  As one of the newest marinas on the coast west of us, we thought we had better return to check it out once again, so with an overnight stay it should give us a little taste of what it has to offer.
Port Hamble Marina overnight stay Saturday 15th July; With many new boats in the marina and people wanting to explore,  the Committee thought an overnight return to Port Hamble was an ideal venue for seeing what there is to offer in the Solent and is a prize worth finding. Cruise with the safety of numbers to see this marina for yourself.
Jersey to St-Quay Port d'Armor to Guernsey; Summer Cruise Fri 28th July–Sat 5th Aug; The second opportunity to cross the channel in a large group this year. For all our berth holders within MDL Cobbs Quay this offers a taste of how Passport Escales works, giving us two free nights in both Jersey and St Quay before returning to Guernsey for another tax free fuel stop before making our way back to Poole. We have tried to get to St Quay several times so let's hope we finally make it! Using the Channel Islands as staging points and refueling stops this should give everyone that mouthwatering taste to go, and with some of the berthing free this gets better and better, only the weather can stop us.
Weymouth Bank Holiday Bash 26th – 28th Aug; Our annual pilgrimage to Weymouth continues and still proves to be the most popular of our cruise destinations, marking the end of our Association cruising season. With limited space here, booking early is essential as this is often the first cruise to sell out.
All of our cruises are at the mercy of the weather and decisions are made in good faith before departure. We look forward to receiving your completed booking form and fee when it goes live. Please remember if you have any questions ask any Committee member, the Cruising Secretary or a Cruise Leader who will be happy to discuss your questions. Let's hope for an extended season, sunny and wind free next year, after all we could do with another good season to make boating in the UK get back to that feel good factor.
The CQBHA Committee